This is the UAL student team: youth mental health with NSFT
Following the symposium, Early Lab review applications and select the UAL students to be project team members who will go on the field trip to Norfolk. Team member skills, strengths and fields of interest – presented here – are highly varied and complementary. Its a great team and everyone is excited to get started on the project with NSFT.
March 2015. The selected Early Lab student team in their own words.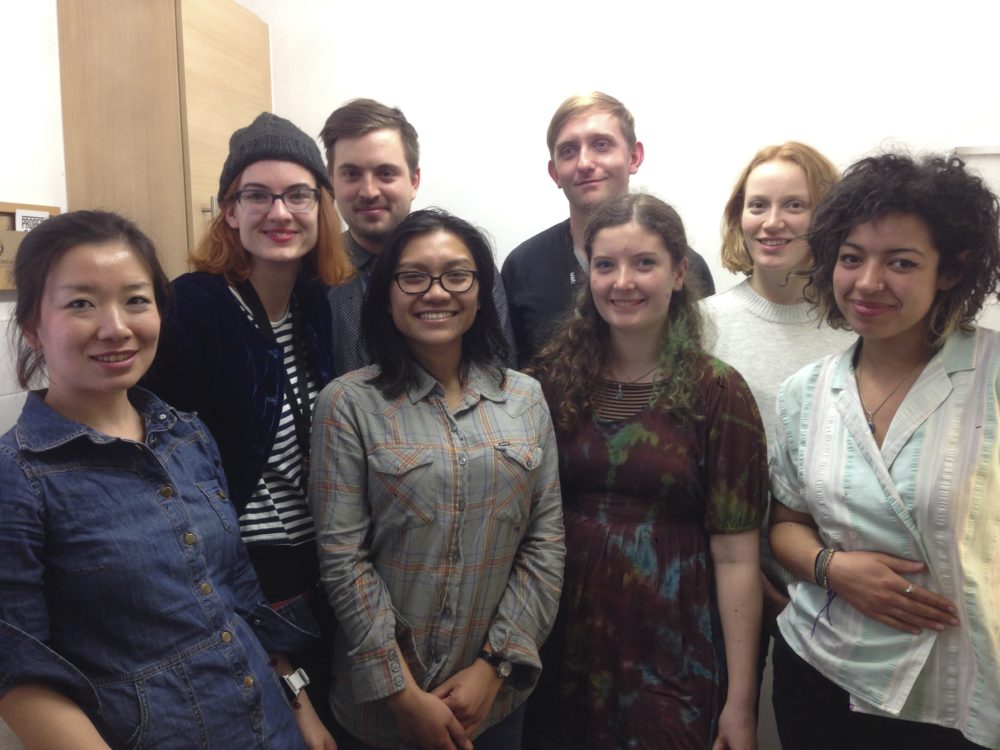 The selected UAL student team
The week after the symposium, those UAL student delegates who wanted to participate in the project with NSFT sent in their applications. Early Lab asked them why they wish to participate and what qualities will they bring to the team. This is what the selected team members said. Their articulate statements express a range of interests and passions spanning many disciplines – ideal for addressing the complexity they will be confronted with on the project.
---
"I love socially responsive projects. I feel there are too many unmet needs and stigma linked with mental illness is critical. Working extensively with non-verbal autistic adults, I was exposed to people dwelling on unvoiced thoughts and emotions. Whilst working within the field of autism, I practiced intensive interaction: a communication method originally used to engage autistic people and those with learning difficulties. It involves awareness and imitation of body language; an empathic response to human behaviour. I would use empathy to my advantage, strengthening bridges of understanding and trust whilst co-designing."
Delina Evans, MDes Service Design Innovation, Year 1, London College of Communication
---
"My MA project touched upon data manifestation on social value and individual emotional well-being. I am preparing to do a PhD research on interaction design, wearable technology and mental health. To use design and technology to empower individuals as well as contribute to a healthier social narrative is a personal passion as well as major research question.
My volunteer work at art-for-mental health charity (Cooltan Arts) has been a useful experience giving me an insight and preparation for effective understanding and communication. My design skills including fashion design development and making as well as basic coding and wearable interaction design.
As a designer, I consider myself as a facilitator and communicator. Much more than serving sales, designers are a very important social force. I want to observe from a sociological and the philosophical perspective, and unlike text based expertise, designers have a better chance to influence people and society to facilitate change by merging humanity, technology, function and aesthetics into daily objects and systems that interact with people."
Caroline Zheng, MA Fashion Futures, graduate (Feb 2015), London College of Fashion*
*From October 2015 Caroline started on her PhD (soft robotics as emotive agents, responsive and adaptive behaviours, cross-disciplinary research) at the Royal College of Art in London.
---
"A background studying architecture and an interest beyond the traditional realms of graphic design means I hold great interest in both the wider potential solutions to a subject but also how the role of a designer can flex and develop within projects and society. Physicality of the world around us and how we engage with our environment and others are themes I am interested in."
Amira Prescott, BA Graphic Design, Year 3, Central Saint Martins
---
"I'm interested in combining systems and aesthetics to produce design that functions as prototypes for new ways of community living. I'm currently writing a monograph about design studio The Decorators who produce systemic design for social contexts. My practice involves curation and events organisation. Last month I curated and produced the graphic identity for Camberwell's show The Expanded Designer. Where I'm at in my own practice means that I'm openminded and really keen to push myself and explore the new ways of working this opportunity presents."
Laura Wright, BA Graphic Design, Year 2, Camberwell College of Arts
---
"I'm conscientious and understanding, diligent and hard working, with a broad skill set from graphic design to illustration and (now) film making. I also have teaching experience and am used to working in teams and speaking in front of groups, having taught English in both South Korea and Japan for 3 and a half years."
Matt Ferguson, MA Graphic Design Communication, Chelsea College of Arts
---
"I am a human being, and I love to hear about and respond to people's problems. I am investigating disruptive techniques that challenge how we make and communicate fashion related topics. Working at the intersection of the virtual and the real body, I am building wearable habitats through 3d technology, performances and speculative objects/films. Much of my work is concerned with a critical perspective on the way we operate as tastemakers around perceptions of the body and considers fashion's effects on behaviour, social life and mental health as much as aesthetics, materiality and processes."
Kat Thiel, MA Fashion Futures, graduate (Feb 2015), London College of Fashion
---
"I want to listen to people to gain the knowledge of other's experiences with mental health to further improve me, not only as a designer, but as a person. As a spatial designer I do not only want to create beautiful spaces, but places that improve people's quality of life. I try to design visually interesting spaces, which also would be used as spaces for relaxation and self-reflection. I am very passionate about considering nature in my designs, be that through the use of materials or the form, because for me nature is a key part of my wellbeing."
Imogen Hearn, BA Interior & Spatial Design, Year 1, Chelsea College of Arts
---
"I've got skills in graphic design, video and photography and a Visual Arts background. I like to work with other people and the fact that we'll be working with people from a background I'm not familiar with (psychologists, therapists, young people and not just artists and designers) makes it even more exciting."
Steven Lang, MA Communication Design, Year 1, Central Saint Martins
---
Next steps
Now Early Lab has a student project team, the students (as well as the NSFT participants) need to be prepared for the forthcoming field trip to Norfolk. The team has four weeks to get up to speed.